Upgraded Version Double-Sided Stunt Car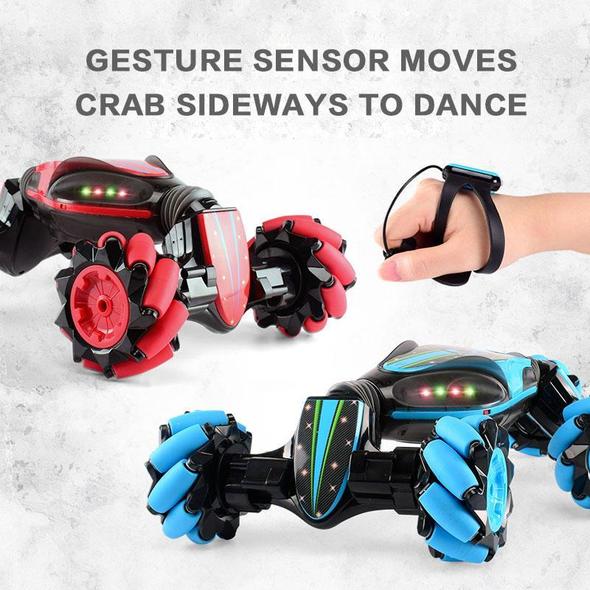 Mecanum Wheel

This omnidirectional movement is based on the principle of a central wheel with a number of axles located around the wheel that converts part of the wheel steering force to a wheel normal force.

Double-sided drive design: Because the car has a unique double-sided design, it can be flipped and driven on both sides. Even if you encounter obstacles, you can continue driving while hitting the wall and turning over. Made of metal and plastic, it has wear resistance and pressure resistance.


One-click conversion - suitable for running on any terrain. Just click on the switch button on the remote control, its body will bend, the four wheels will be tighter, and the ground will be stable. The car will change from a flat shape to an off-road vehicle.


Applicable indoors and outdoors, flat hills: strong power, high speed 25 km/hour, can run perfectly on various surfaces indoors and outdoors, such as cement floor, terrazzo floor, cross country sports and so on.


Anti-interference, easy to operate: 2.4 GHz radio control system has good anti-interference performance. The remote control distance is approximately 150 meters, allowing multiple cars to play without interference.


Front, rear, left/right, flip and high chassis can be freely combined during playback. 4WD driving provides better stability and off-road performance. This RC stunt car is very sturdy.

Specifications:

Charging time: 2-3h
Speed: 25km/h
Working time: 45 mins
Control distance: 150m
Product size (L x W x H): 50*28*13cm
Package Weight: 1.98 kg
Function: forward/backward,turn left/right/Deform
Type: Remote control - Double-Sided Stunt Car
Materials: ABS/PVC
Controller: 2.4Ghz

Customer Questions & Answers

Question1:How long can it play when charged once time?

Answer:About 45~60 minutes.


Question2:Can it drive on the dirt or sand?

Answer:Of course, it is suitable for all kinds of terrain.


Question3:How to control it by watch remote control and gesture remote control?

Answer:Well,all its moving direction is consistent with the direction of the gesture movement. Turn on the remote control and car switch firstly,The front swing is forward, the rear swing is backward, and the left and right tilt is left and right tilt. One-touch switch of the index finger, the watch moves up and down to switch the car shape to the off-road climbing or flat sports car status.


Certification authority:

Our Service

BZFuture provides cheap Upgraded Version Double-Sided Stunt Car for customers with immediately delivery, this safe and secure Upgraded Version Double-Sided Stunt Car will be sent to you with 7/24 online support after payment. Welcome to BZFuture and buy Upgraded Version Double-Sided Stunt Car and enjoy best shopping experience at our bzfuture.com website store.

Fast transaction for Upgraded Version Double-Sided Stunt Car brings you brand new experience of comfort. We tried our best to cut off the complexity of Upgraded Version Double-Sided Stunt Car transaction and give you a cozy environment with the safest and fastest service. BZFuture always take the road of Authorized Brands, there is no worries to buy Upgraded Version Double-Sided Stunt Car here, and you can also enjoy the most reasonable price on bzfuture website, and receive the Upgraded Version Double-Sided Stunt Car easily.

Our Advantages

Formal Authorization:
BZFuture is an authorized online store in the marketplace. You can buy Upgraded Version Double-Sided Stunt Car with no worries on bzfuture, we're also enabled to offer you a best shopping experience and best quality customer service.

Instant and Reliable Delivery:
With the help of suppliers all over the world, our service for delivering Upgraded Version Double-Sided Stunt Car is the fastest way in the marketplace. Instant and reliable delivery system is your best choice for buying Upgraded Version Double-Sided Stunt Car from BZFuture.

Safe Transaction:
With more than 10 years of developing in official software products and gaming accessories, BZFuture is capable of providing a better service for Upgraded Version Double-Sided Stunt Car transaction, and already have over 1 million registered members, from more than 100 countries worldwide. You can safely supply software related needs such as operating software, office software, antivirus and security software, and your game related needs such as gaming chair, gaming keyborad, gaming mouse, gaming headset and so on.

We have 10 years of certified sale with PayPal. Also we are PaymentWall partners, we accept Credits Card, Webmoney, Paysafecard, and many other means of payment.

Our Insurance

After years of operation, our website is so well-known for customers all around the world, and we guaranteed to supply personalized service and products to worldwide customers. Feel free to contact us on 24/7 live chat or Skype. Our Customer service reps are waiting to help enhance your shopping experience.

If you have any question, please check our FAQ for more introduction, or you can contact our Live Support 24/7 to solve the problem, our team is at your disposal to help you any time.