Smart Foldable RC Drone HD Camera App Control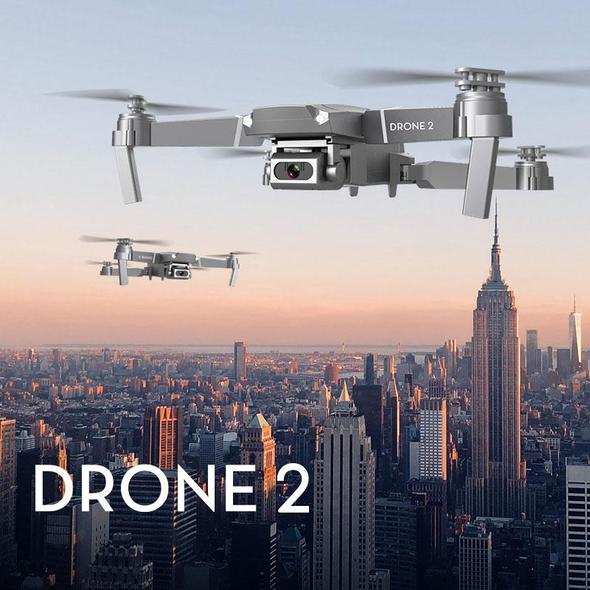 designed to give the ultimate aerial video and photography experience, creating breathtaking imagery without the need to learn complicated film techniques.

---

3D tracking

3D tracking lets the drone follow you autonomously. The Drone 2 automatically detects objects and avoids obstacles using the cutting-edge motion intelligence similarly found in the self-driving car.

Smart follow mode, if you set the person as a follower, it can fly behind you and record the picture during the exercise.

---

Intelli-Gesture

With gesture interaction, you can take stunning aerial selfies, using poses to control the drone. The Drone 2 recognizes each pose as a specific command and will follow your instructions, moving forward and backward, side to side, and taking photos. This is the first drone to support up to 6 different gestures, all of which can be customized to your personal preference.

Safari

In Safari Mode, the Drone 2 can explore the world. Flying along a designated route, it automatically identifies and frames objects of interest, taking the right photos at the right time.

Using advanced AI, the Drone 2 recognizes animals, plants, people, vehicles, and other objects, bringing back aesthetically unique photos from its tour.

Template Video

The Drone 2 is pre-programmed with built-in cinematic movements. Its precision flight patterns are designed to replicate industry professional film techniques.

Intelligent Battery

The Drone 2 leads the consumer drone market with the longest flight time, coming in at an impressive 30 minutes. This extended flight time allows the Drone 2 to capture more footage and out-perform all of its competitors with a single charge.

Ultra Compact

Weighing a mere 470 grams, the Drone 2 is foldable to palm size and packs easily, offering a streamlined travel solution.

3-AXIS GIMBAL CAMERA

The is the most portable drone to house a 3-axis mechanical gimbal, with its angular vibration range reduced to 0.005°. Set in a triangular formation, gimbal dampeners help create even steadier shots.

POWERFUL PROPULSION

With its aerodynamic, lightweight, and slick design, Soars through the air with minimal wind resistance. The gimbal and camera are flush with the aircraft, significantly increasing stability.

---

STAY IN THE AIR, UNCOMPROMISED FLIGHT TIME

Even with all of its intelligent features, flight time isn't compromised. Fly for up to 20 minutes with a fully-charged battery, capturing more footage.

FLY AT YOUR FINGERTIPS

In the mode, just envision your shot and captures it for you. Tap your phone screen, using vision technology, flies in the direction of your tap or exactly where you tapped while actively sensing obstacles.

SPECIFICATIONS:

Charging time: about 150 minutes
Flight time: 25-30 minutes
Battery: built-in battery 3.7V 1200mAh ( modular battery )
Remote battery: 3 x 1.5 AA battery ( not included )

Flight duration: 25-30 minutes
Pixels: 1080p/4K
Remote control distance : 150m
Speed Sports Mode: 30 mph/Standard mode: 12.4 mph

STORAGE:

8 GB Internal Storage
The aircraft and export files through its USB 3.0
Micro-USB port.

FEATURES:

Intelligent Flight Modes Smart, reliable, and incredibly intuitive Quick Shot Videos with a Tap
High-Performance Camera Amazing images and stabilized video Mechanical Gimbal Stabilization Shake-Free Shots
Foldable & Portable
3-Axis Gimbal & 1080P/4k HD Camera
3-Directional Environment Sensing
32 MP Sphere Panoramas
GPS positioning and auto-cruise

---

Our Service

BZFuture provides cheap Smart Foldable RC Drone HD Camera App Control for customers with immediately delivery, this safe and secure Smart Foldable RC Drone HD Camera App Control will be sent to you with 7/24 online support after payment. Welcome to BZFuture and buy Smart Foldable RC Drone HD Camera App Control and enjoy best shopping experience at our bzfuture.com website store.

Fast transaction for Smart Foldable RC Drone HD Camera App Control brings you brand new experience of comfort. We tried our best to cut off the complexity of Smart Foldable RC Drone HD Camera App Control transaction and give you a cozy environment with the safest and fastest service. BZFuture always take the road of Authorized Brands, there is no worries to buy Smart Foldable RC Drone HD Camera App Control here, and you can also enjoy the most reasonable price on bzfuture website, and receive the Smart Foldable RC Drone HD Camera App Control easily.

Our Advantages

Formal Authorization:
BZFuture is an authorized online store in the marketplace. You can buy Smart Foldable RC Drone HD Camera App Control with no worries on bzfuture, we're also enabled to offer you a best shopping experience and best quality customer service.

Instant and Reliable Delivery:
With the help of suppliers all over the world, our service for delivering Smart Foldable RC Drone HD Camera App Control is the fastest way in the marketplace. Instant and reliable delivery system is your best choice for buying Smart Foldable RC Drone HD Camera App Control from BZFuture.

Safe Transaction:
With more than 10 years of developing in official software products and gaming accessories, BZFuture is capable of providing a better service for Smart Foldable RC Drone HD Camera App Control transaction, and already have over 1 million registered members, from more than 100 countries worldwide. You can safely supply software related needs such as operating software, office software, antivirus and security software, and your game related needs such as gaming chair, gaming keyborad, gaming mouse, gaming headset and so on.

We have 10 years of certified sale with PayPal. Also we are PaymentWall partners, we accept Credits Card, Webmoney, Paysafecard, and many other means of payment.

Our Insurance

After years of operation, our website is so well-known for customers all around the world, and we guaranteed to supply personalized service and products to worldwide customers. Feel free to contact us on 24/7 live chat or Skype. Our Customer service reps are waiting to help enhance your shopping experience.

If you have any question, please check our FAQ for more introduction, or you can contact our Live Support 24/7 to solve the problem, our team is at your disposal to help you any time.